[quote][b]HailToAlmightyUGA[/b] - @silent_majority: isn't your new name "vocal/oral minority"?
have u been wearing black all week?

[/quote]
First off, no, I have not been in black...I had my drunken rant election night and was done. I prefer to move on and make the best of what we have to work with. You can spend all your time pissing and moaning about how unfair crap is...I will just pass you right on by and prosper regardless.
Second, no, my name has not changed; that would be you, though by now you've done it so many times I can see how you would be confused.
posted @ Sunday, November 11, 2012 - 23:05
[quote][b]hardrocker[/b] - I wonder how this would have played out if Obama had needed
Fla. to win. We'll never know but would have been chaos, I'd bet the farm!!!
[/quote]
Go read over the happenings inside the Romney camp around 11PM Election night...his campaign aides urged him not to give in, and they had "at least four planes" ready to depart with teams of lawyers for recounts...
Romney said "It's not going to happen", and shut it all down...then gave his concession speech.
I believe we saw a dignified and honorable man show his true colors, and I thought it was a classy move.
posted @ Sunday, November 11, 2012 - 13:07
[quote][b]hjfedrick[/b] - The biggest thing we need to do on this issue is to try to come together and work for the good of everyone.[/quote]
Worth repeating.
[quote][b]hjfedrick[/b] - No one is saying that Obama can completly solve all the problems of this country by himself. But a number of people felt that he would address all the issues and make a attempt to correct them.[/quote]
And like it or not, the people he convinced outnumbered the ones he did not. For good or bad, we get four more years, so lets hope it all works out.
[quote][b]hjfedrick[/b] - All I am saying is that with lets stop with all the name calling. It's not going to solve nothing.[/quote]
Look back carefully on this thread and see which side is name calling.
Both sides need to stop, and lets move on with our lives, but I sure do see more name calling and vile remarks from the Left.
posted @ Sunday, November 11, 2012 - 12:58
@HailToAlmightyUGA: You crow and brag about how well-traveled and experienced you are, yet all you do is rail non-stop against the local populace you have so much loathing for.
I ask again (as I did when you posted under your now-banned ID of "boiledpeanutsbrother") - which of these heinous people is keeping you here at gunpoint against your will?
I will personally lead the rescue effort to free you so you can escape and leave this place which causes you so much misery.
Or, to use a well-worn phrase: "Delta's ready when you are".
My passport is well used and I have called five different US States home in the course of my adult years, and I will gladly take local folks here who may not have traveled widely (yet are polite and friendly) over a pompous, miserable wretch like yourself any day.
posted @ Sunday, November 11, 2012 - 12:51
You guys are going to have to continue the political sniping without me...I'm just flat burned out on it.
Need to focus my energies into positive activities and things within my realm of control.
On the subjects going back and forth on this thread, some food for thought:
The cell phones were available in 2007, but they exploded due to the carriers figuring out they could market to the poor…many marketing using references to Obama, some with websites like obamaphone.net. The number of cells on the program exploded from that, and hence the moniker "obamaphone" was born.
Now, one could argue whether or not there were encouraging words from folks with Dem political affiliations that hinted they should do so or not, but "them's the facts" as it were…you can thank the marketing from the carriers for the explosion and the moniker.
And to suggest one political affiliation has more sexual deviants than the other is absurd…the biggest reason we hear about the Republicans is due to the fact that their activities fly in the face of their purported morals.
To wit:
If Barney Frank is caught kissing on two strapping young men in a gay bar, no one blinks…if Boehner is, it would be political Armageddon, and front page news.
posted @ Friday, November 9, 2012 - 16:07
[quote][b]snarkydude[/b] - Looking at the headline, one would assume that the employee was robbed while driving a bus.
[/quote]
That was my thought as well...figured a bus driver was robbed on-duty.
posted @ Friday, November 9, 2012 - 14:20
[quote][b]avenger[/b] - I have no opinions about this suit until more of the facts are known.[/quote]
I too want more details...something seems fishy about this whole ordeal.
He sues her, she sues him, both cases are sealed, and now this?
posted @ Friday, November 9, 2012 - 14:04
[quote][b]Anonymous Dude[/b] - @silent_majority: Nope, Canada does just fine....with 1/4 of the healthcare cost per capita.
All we need to do is kill off the corporations making a killing off killing us.
[/quote]
That's all well and good, but you may as well say "fish can breathe underwater, so can we" for the practical application it holds to our system.
Being at that point would be great...getting to that point is going to be extremely painful, and forcing it could well wreck our economy.
That's what concerns me.
posted @ Friday, November 9, 2012 - 13:45
[quote][b]Anonymous Dude[/b] - America will then civilize into a single provider Federal health care country.
For profit health care kills people.[/quote]
Who's going to pay for that? You know of some secret way to budget for this from the 8th Dimension I am unaware of?
Will be interesting to see the impact this has on employment next year with the workarounds companies will be doing to avoid the costs (cutting hours, shifting jobs, avoiding hiring, etc.)...hopefully it won't be as bad as some are predicting.
Everyone agrees it would be great if we could all get free, top-notch healthcare and other fine subsidies (seriously, who wouldn't want to live on Earth as depicted in the Star Trek series?), but you can't rule out two very basic truths:
1- People (as a species) are lazy, and will take advantage of these programs if you let them. When given the option to work hard for meager reward, or do nothing and receive coverage enough to provide for an existence, many will take the easy road.
2- Someone has to pay for all these benefits.
It starts small and good but then grows and grows...eventually, you have more takers than makers, so then what?
posted @ Friday, November 9, 2012 - 13:10
[quote][b]Mayor McCheese[/b] - Does his gun say "replica" on the side?
[/quote]
No...it surely says "Desert Eagle point five-oh"
posted @ Friday, November 9, 2012 - 12:39
[quote][b]E.J.[/b] - That wasn't a snide remark; I just don't seem to know all the terrible things she's done. That's why I was interested to know what you knew. You may have also read what you wanted to hear don't you think? Perhaps we are even now.[/quote]
Oh no doubt, it's a total perception thing on my part...I remember seeing her when Bill was running and thinking "she looks like she may be the one really in charge there", then the Whitewater thing broke, and then it was more "she looks like she knows where the bodies are buried...literally and figuratively".
And on the Rubio front, I hopped over to Google News to see what else was going on in the world, and found this:
http://www.csmonitor.com/USA/Politics/2012/1108/Marco-Rubio-headed-to-Io...
Talks about how he and his party are already starting to maneuver into "immigration reform" territory, and how he looks to be a front-runner for 2012 already.
posted @ Thursday, November 8, 2012 - 19:36
[quote][b]Lazarus Laughs Last[/b] - But how are the Republicans going to "embrace true immigration reform" without alienating their xenophobic base? Despite the fervent wishes of many, not all of that group will be dead by 2016.[/quote]
Their "xenophobic base" isn't nearly as big as you believe or wish. Contrary to your thoughts and those parroted by the Left, most who rail against illegal immigrants are not opposed to legal immigrants.
After that, I think they will take their chances on the rest, because they stand to gain a lot more ground by courting the Hispanic vote.
Anything beyond that, and you will need to do do your own research and thinking, because I am done playing "feed the troll" for tonight.
posted @ Thursday, November 8, 2012 - 19:22
[quote][b]Lazarus Laughs Last[/b] -
Yeah, and I stuffed all of those ballot boxes on Tuesday.
You just keep on telling yourself that, Mr....majority.
[/quote]
Don't you have a bridge to patrol?
Or some peanuts to boil, or a coach to rail against, or something?
posted @ Thursday, November 8, 2012 - 18:54
[quote][b]Lazarus Laughs Last[/b] - Many other Latino groups have a certain antipathy toward "Cuban exiles" due to the oh-so-special treatment accorded to that group[/quote]
And if the Republicans succeed where Obama failed, and embrace true immigration reform (spearheaded by Rubio, obviously), you don't think the other Latino groups...specifically Mexican in origin, wouldn't look past that?
Plus, it's hard to demonize the Republican candidate as a "rich old white guy" when he's from humble beginnings, and is young, handsome, and Latino.
If they pull that off, you will see a mass exodus of the Hispanic vote from the Democratic side, and the 44% Latino vote Bush pulled in will seem like small potatoes.
Sure, you will still have holdouts who resent the Cuban origins, but by and large the Latino population will embrace the man and the party that gave them real immigration reform.
posted @ Thursday, November 8, 2012 - 18:52
[quote][b]Lazarus Laughs Last[/b] - That sounds downright...paranoid.[/quote]
More like...observant.
posted @ Thursday, November 8, 2012 - 18:12
[quote][b]E.J.[/b] - Apparently you and others know her better than I do[/quote]
I don't know her at all...nor do I know Al Sharpton, or Barney Frank, or Dick Cheney, or Rush Limbaugh...but I know better than to trust any of them farther than I can throw them.
[quote][b]E.J.[/b] - but you should include the reasons for your opinions so I can determine where you are coming from.[/quote]
Much as I refuse to quadruple-justify my concerns or criticisms of Obama to soothe the fears of the knee-jerk race card holders, I have no plans to do anything different for criticisms or concerns of someone who happens to be a woman.
You can always assume my opinions are coming from a person's actions, and what I suspect their intentions are based on observation...not based on their gender (or race, for that matter).
[quote][b]E.J.[/b] - They say both Barbara Bush and Nancy Reagan were puppeteers as well.[/quote]
Never heard that, nor do I get that from either of them (or Michelle Obama for that matter).
posted @ Thursday, November 8, 2012 - 17:45
[quote][b]Lazarus Laughs Last[/b] - Really?
If you would ever venture out of your WASPy bubble, you would find that you are dead wrong about that assumption[/quote]
Sorry to burst your self-righteous superiority complex there sweetheart, but I travel in all sorts of circles.
And you are the one who is dead wrong.
You should try logging in as one of your other puppet accounts (or your main one) to jump in and agree with yourself though...
posted @ Thursday, November 8, 2012 - 17:33
[quote][b]E.J.[/b] - So how is she much different than Bill Clinton? I am sensing in your post and CharlesB's post among many others that ever-present deep hatred of powerful females. Men seem to have this attitude or fear inborn. If she were a male, she would not get nearly the hate that mostly males have thrown her way. Help me out here. Why is she dangerous? Puzzled[/quote]
You are seeing that which you wish to see in my comments...
I have no problem with powerful women. One of the people I respect very much in this world is my boss, and she is one smart and tough lady, and deserves all the success she has. I have passed up opportunities to go elsewhere in my company in order to stay under her for what she can teach me.
Hillary is not just a "powerful woman"...I believe she was the one pulling Bill's strings all along, hence why she stayed through his transgressions. In short, he was her puppet, and her path to her own long term goals. I think the pic charlesb posted of her is likely what she would look like if her true self was reflected in her outer appearance.
posted @ Thursday, November 8, 2012 - 17:17
[quote][b]curiouscat[/b] - @silent_majority: You must be talking about Dick Cheney.


[/quote]
Nope...but he would make a good evil lackey for her.
She's got twice the balls and all the ruthlessness of Cheney.
posted @ Thursday, November 8, 2012 - 15:15
[quote][b]curiouscat[/b] - I'm guessing that Hillary Clinton would prefer being on the Supreme Court at this stage of her life. I hope so.[/quote]
I think she would much prefer the title "Supreme Empress of Earth" myself...
She is more ruthless and cut-throat than anyone I have ever seen. Combined with her intelligence and political savvy, she is very dangerous.
posted @ Thursday, November 8, 2012 - 15:03
[quote][b]demosthenes[/b] - Basil Marceaux.[/quote]
Just saw this clip last night on a "World's Dumbest..." re-run.
I thought it was a parody to start with...I'm impressed this guy can tie his own shoes!
posted @ Thursday, November 8, 2012 - 15:00
@ned: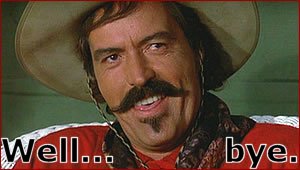 posted @ Thursday, November 8, 2012 - 14:56
[quote][b]Lazarus Laughs Last[/b] - You should apologize for your inappropriate handle; you are neither silent nor the majority.[/quote]
Sorry, I don't take "handle" advice from trolls who can't seem to avoid the ban hammer and have to constantly come back with new names and puppets.
Maybe we should start a pool to see how long this one lasts for you...
[quote][b]Lazarus Laughs Last[/b] - I find the word offensive, but what I find even more offensive is the assumption that African Americans are incapable of engaging in ironic discourse.[/quote]
Who claimed they weren't capable of ironic discourse?
Most every ethnic group has derogatory terms they deem offensive...for example, consider Latinos, and Jewish people...do you see these groups referring to themselves and their peers by the derogatory and offensive slang terms?
No, you don't, because they find the term offensive. In turn, they expect others to not use it either. A reasonable request that should be honored.
When the black community has vigorously adopt the "n-word" as a term of endearment, or slang for each other, or as a general conversational term, or even as a matter of casual identity, I find it duplicitous for them to take horrible offense when others use it.
It's an offensive word which has no place in a civilized society, and should be dropped...period.
posted @ Thursday, November 8, 2012 - 14:49
[quote][b]avenger[/b] - But a cartoon that harshly exposes the truth that there are racists and they lost against Obama isn't something to extinguish when racism is allowed to exist here online.[/quote]
Are you equally ready to fly the "fair" flag then?
"Racists- 2"
"Responsible Americans concerned about the economic future of our nation - 0"
As I said, there is indeed racism...it is shown equally from both sides.
I don't believe racism was the main reason folks voted for Obama (though many did), nor do I believe the opposition to him is primarily motivated by racism (though it is for many). Most on either side are more concerned with his actions and policies, not his skin color.
If you wish to pick out the finer points, be my guest...just quit painting everyone with that broad brush.
posted @ Thursday, November 8, 2012 - 12:33
[quote][b]Lazarus Laughs Last[/b] - You're like a cockroach..they just can't seem to find a way to get rid of you for good, can they?
I find your insectophobia to be bigoted and offensive.[/quote]
I hereby apologize to the cockroaches of the world for comparing them to you...it was a terrible and insensitive thing, and hopefully they can forgive me for the offense.
posted @ Thursday, November 8, 2012 - 12:15