@Oistrakh: There is but one God, and that God made Tim Cook.
posted @ Thursday, October 30, 2014 - 18:28
[quote][b]Kwijibo Junior[/b] - e can't use those facts and data to predict the future with any degree of certainty.[/quote]
There is a great deal of certainty about what the variables that influence climate change. There is a great deal of certainty about how those variables have changed in recent history. There is a great deal of evidence that the climate is changing rapidly.
But don't let these facts stand between your concept of reality and what Fox News wants you to believe.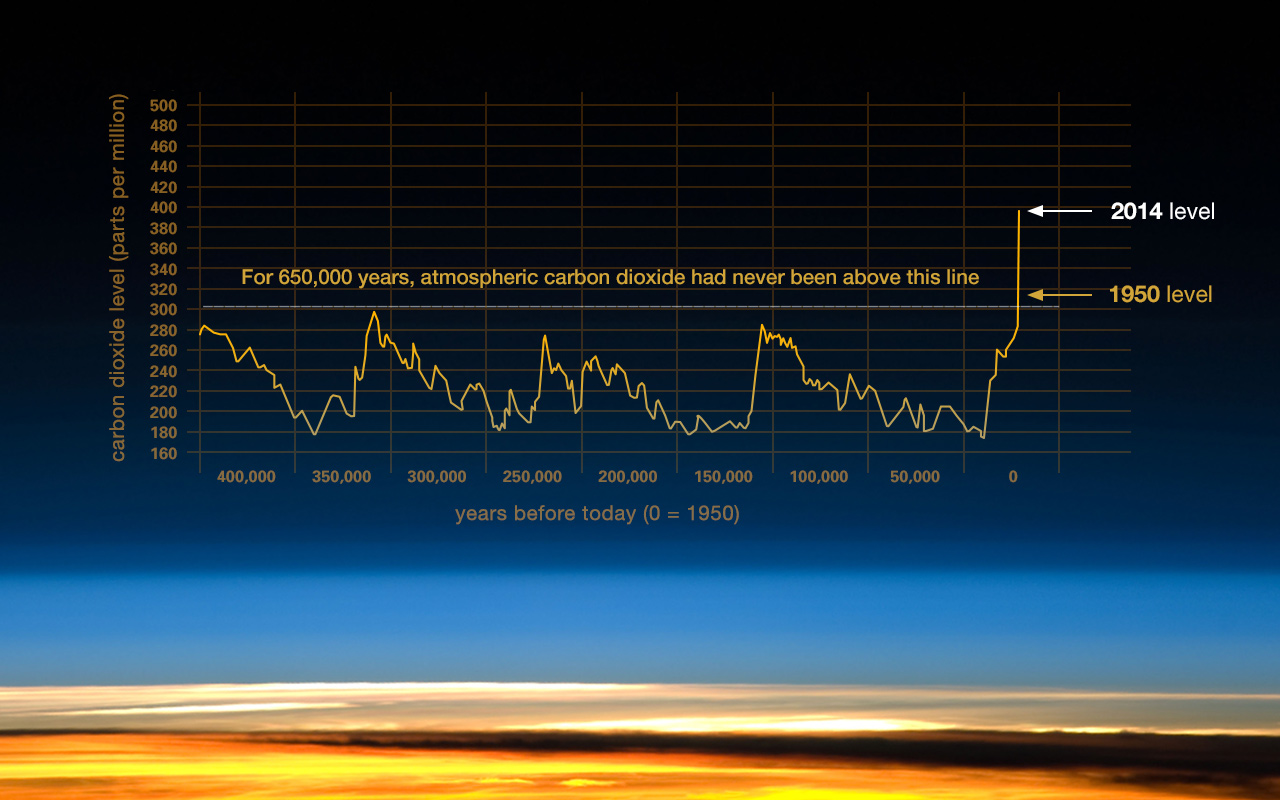 http://climate.nasa.gov/evidence/
Sea level rise
Global sea level rose about 17 centimeters (6.7 inches) in the last century. The rate in the last decade, however, is nearly double that of the last century.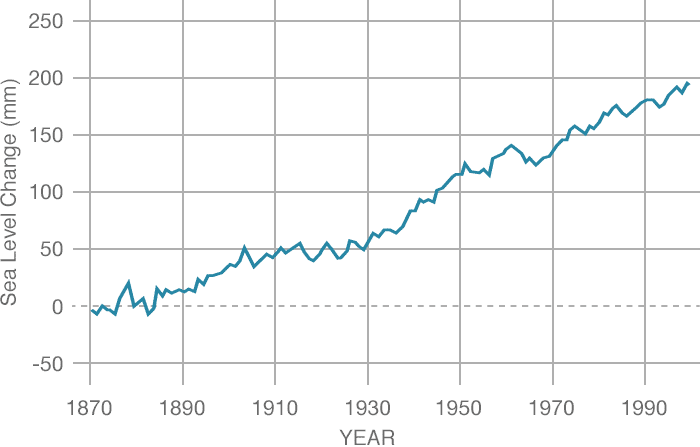 Global temperature rise
All three major global surface temperature reconstructions show that Earth has warmed since 1880.5 Most of this warming has occurred since the 1970s, with the 20 warmest years having occurred since 1981 and with all 10 of the warmest years occurring in the past 12 years.6 Even though the 2000s witnessed a solar output decline resulting in an unusually deep solar minimum in 2007-2009, surface temperatures continue to increase
.
Warming oceans
The oceans have absorbed much of this increased heat, with the top 700 meters (about 2,300 feet) of ocean showing warming of 0.302 degrees Fahrenheit since 1969.
Shrinking ice sheets
The Greenland and Antarctic ice sheets have decreased in mass. Data from NASA's Gravity Recovery and Climate Experiment show Greenland lost 150 to 250 cubic kilometers (36 to 60 cubic miles) of ice per year between 2002 and 2006, while Antarctica lost about 152 cubic kilometers (36 cubic miles) of ice between 2002 and 2005.
Declining Arctic sea ice
Both the extent and thickness of Arctic sea ice has declined rapidly over the last several decades.
Glacial retreat
Glaciers are retreating almost everywhere around the world — including in the Alps, Himalayas, Andes, Rockies, Alaska and Africa.
Extreme events
The number of record high temperature events in the United States has been increasing, while the number of record low temperature events has been decreasing, since 1950. The U.S. has also witnessed increasing numbers of intense rainfall events.
Ocean acidification
Since the beginning of the Industrial Revolution, the acidity of surface ocean waters has increased by about 30 percent. This increase is the result of humans emitting more carbon dioxide into the atmosphere and hence more being absorbed into the oceans. The amount of carbon dioxide absorbed by the upper layer of the oceans is increasing by about 2 billion tons per year.
Decreased snow cover
Satellite observations reveal that the amount of spring snow cover in the Northern Hemisphere has decreased over the past five decades and that the snow is melting earlier.
posted @ Thursday, October 30, 2014 - 08:54
Five accidents in 10 months! May 2013-March 2014
posted @ Wednesday, October 29, 2014 - 08:10
dupe
posted @ Wednesday, October 29, 2014 - 08:09
[quote][b]WestsideAthens[/b] - talk with the business that have left or planning on leaving to see [/quote]
There is an growing and increasingly active group of property owners and business operators meeting regularly to discuss the issues and the solutions for Atlanta Highway. The group is independent of the government, but commissioners attend the meetings to listen and to communicate.
Addressing the connectivity issue and beautification of the highway are among their priorities. This first initiative is a first step. There is a lot more prioritizing, planning and work to do.
posted @ Friday, October 24, 2014 - 10:09
[quote][b]OCCountry[/b] - Just how much money did our government spend researching this??[/quote]
I did not see anything in this article that indicated that its content is from anything but discussions with Douglas Anderson, veterinary director of the Georgia Poultry Laboratory Network.
I have yard birds, so I do know where you are coming from, OC.
posted @ Monday, October 20, 2014 - 23:17
At the request of Commissioner Wright, GDOT put a barrier up to block pedestrians from crossing there. It is Loop 10 is GDOT's jurisdiction, so ACC may not put up such a barrier.
posted @ Tuesday, October 14, 2014 - 23:37
posted @ Friday, October 10, 2014 - 08:10
[quote][b]maxcat07[/b] - "In summary, the American slave was treated like property, which is to say, pretty well."[/quote]
Property:

posted @ Monday, October 6, 2014 - 10:37
I was taught Civics in the Alabama public school system during Jim Crow. We were taught from text books that said the the slaves were happy and well-treated . I was too young to believe otherwise, and those lies delayed my understanding the truth for several years. In the end, what those text books accomplished for me was distrust in what I read in state-approved school books.
posted @ Sunday, October 5, 2014 - 21:38
Who is to say that what the VP said was not true? Perhaps it was not PC, but even the apology has a hole in it:
""The vice president apologized for any implication that Turkey or other allies and partners in the region had intentionally supplied or facilitated the growth of ISIL or other violent extremists in Syria," the White House said, using an acronym for the Islamic State group."
posted @ Sunday, October 5, 2014 - 21:24
The idea of crafting American history courses to teach the "benefits of the free enterprise system, respect for authority and respect for individual rights, while avoiding lessons that condoned civil disorder, social strife or disregard of the law'"
(http://www.nytimes.com/2014/10/04/us/after-uproar-colorado-school-board-...)
smacks of a move of corporate interests and influence into the classroom.
I ask: Is this an indication that many believe that law and order, the free enterprise system and corporate personhood are more sacred than human rights, teaching facts, learning critical thinking and freedom of speech (by people)? I certainly hope not.
posted @ Sunday, October 5, 2014 - 14:28
So Mr. Hare compares "random" district lines versus gerrymandered lines. I wonder if there one would expect a different result if districts represent "communities of interest", where the shared interest is not simply political leanings, but such as political boundaries (county lines), shared economies, shared industries, etc. Just wondering.
posted @ Saturday, October 4, 2014 - 09:36
[quote][b]The Oracle of the Athens Banner Herald[/b] - How can they build without complying with the existing regulations.[/quote]
The developer was asking for exceptions to the existing regulations.
posted @ Saturday, October 4, 2014 - 09:17
I am agreeing with Michael Reagan.
posted @ Monday, September 29, 2014 - 08:38
In my brief time as ACC Commissioner, I have spent some time in Jim Corely's department and been involved in discussions about Jim's departmental initiatives and budget requests. I have always come away impressed by his leadership, attention to detail and the quality of his staff. Jim will be missed but will leave behind a well-functioning organization and a great legacy.
posted @ Thursday, September 25, 2014 - 21:17
[quote][b]retiredandhappy[/b] - Probably just coincidental that Stewart was the one that spun him out.[/quote]
Also a coincident Ward was targeting his anger toward the one who spun him out.
posted @ Thursday, September 25, 2014 - 08:41
[quote][b]grove600[/b] - Isn't that right there where the other day, those "non-gang" members had a little game of tussle with their fellow "non-gang" members? [/quote]
No. It is not.
This death is, apparently, a suicide by a missing woman. Fully clothed, empty pill bottle in her handbag. No foul play suspected, I am told.
posted @ Tuesday, September 23, 2014 - 20:26
The idea that the US would rely on Russian payload mission capabilities to maintain US presence on the space station is alarming. The fact that it is a reality means that our presence there is subject to the whims of Putin.
I doubt that the American public really understands this fact, otherwise Congress would be clamoring to correct this error caused by poor planning and/or no commitment over the last 20 years.
On the other hand, establishing a commercially operated space shuttle service will be quite an accomplishment for our nation. (But what if it goes broke. Then what?)
posted @ Sunday, September 21, 2014 - 10:29
"westside"?

posted @ Thursday, September 18, 2014 - 22:30
This award is statistically significant.
Congratulations, Christine!
posted @ Wednesday, September 17, 2014 - 08:04
http://www.forbes.com/sites/dandiamond/2014/09/04/part-time-jobs-are-inc...
"Good news for the millions of Americans seeking good jobs: The job market hasn't grown this fast since the Clinton administration. The economy has gained more than 9 million jobs since the recession's lowest point almost five years ago. When the new jobs report is released on Friday, it's likely to show that the U.S. private sector added 200,000-plus jobs in August."
posted @ Friday, September 12, 2014 - 06:02