[quote][b]theold33[/b] - It's good to see someone take charge of the Eastside. It's also great to see another member of the Sons of Confederate Veterans doing well. Kudos, Lt. McKeel.
[/quote]
Sons of Confederate Veterans
http://www.scv.org/
posted @ Saturday, August 30, 2014 - 11:17
Hi TeeWee.
I know that you are a former peace officer or current peace officer.
One of the reasons that I quit GSP was because there were black troopers who were racist against whites.
I was actually attacked by one during trooper school.
Another reason that I left is because we are seeing the militarization of the police in AmeriKa.
Americans are being controlled and being played off against each other.
posted @ Tuesday, August 26, 2014 - 21:08
Man, 32, is left with brain damage after 'being attacked by gang of 20 black men' in parking lot after being told Waffle House 'wasn't safe for white people after Ferguson'
http://www.dailymail.co.uk/news/article-2734860/Ex-Marine-left-brain-inj...
Witness: Beaten man told eatery 'not safe for whites'
http://www.usatoday.com/story/news/nation/2014/08/25/beaten-man-restaura...
Iraq War Vet Was Warned Waffle House Wasn't 'Safe For Whites,' Gets Beaten, Needs Brain Surgery
http://dailycaller.com/2014/08/26/iraq-war-vet-was-warned-waffle-house-w...
Mississippi man beaten after he's warned restaurant wasn't safe for whites, witness says
http://www.nola.com/news/index.ssf/2014/08/mississippi_man_beaten_after_...
"So a former Marine who served his country can be beaten half to death for apparently no other reason than being white, and it's not a hate crime?"
Witness: Beaten man was told restaurant 'not safe for whites'
http://www.clarionledger.com/story/news/2014/08/25/witness-beaten-man-to...
posted @ Tuesday, August 26, 2014 - 21:01
http://dui.drivinglaws.org/resources/dui-refusal-blood-breath-urine-test...
posted @ Monday, August 25, 2014 - 17:59
@TeeWee:
Thank you for your posts and for trying to help others.
I appreciate you.
posted @ Monday, August 25, 2014 - 17:15
America's Best Independent Stores
http://images.businessweek.com/ss/09/06/0619_best_independent_stores/13.htm

posted @ Saturday, August 16, 2014 - 20:02

"Mike Gutierrez (left) and Adam Weinstein (third from left) brought guns to guard their store and nobody is robbing St. Louis Ink Tattoo Studio anytime soon. Or County Guns, for that matter."--By Danny Wicentowski
posted @ Saturday, August 16, 2014 - 14:13
"I think the first message is to remind all law enforcement that they are hired to serve and protect and if they're going to sit back and watch looting, they're not serving us; they're not protecting us," Pastor Robert White told the station. A reporter from the station tweeted that police cars were seen driving past some of the stores being looted and did not respond."--FoxNews.com
'There are no police': Ferguson store owners guard businesses; cite lack of police response
http://www.foxnews.com/us/2014/08/16/there-are-no-police-ferguson-store-...
2 gun stores near Ferguson say sales are soaring
http://money.cnn.com/2014/08/14/smallbusiness/gun-sales-ferguson/
So now the police are just standing by while the looters go wild.
Ferguson Riots: North County Business Owners (Some Armed) Survey the Damage
http://blogs.riverfronttimes.com/dailyrft/2014/08/ferguson_riots_north_c...
posted @ Saturday, August 16, 2014 - 14:07
I'm former GSP. This silliness that it's always the blacks that are victims has to stop. I grew up in the 70s, and all the 70s TV taught was that it was always the whites that were ignorant and racist. Then when I got on GSP, I learned the hard way that there were a lot of racist blacks, some of them serving with GSP.
What it comes down to, is that there is a global elite, and they are playing us all off against each other.
Here's Captain Ronald S. Johnson of the Missouri Highway Patrol, marching.
Molotov Cocktails and Looting Swamp Police, So Store Owners Take Up Arms to Defend Themselves
http://www.theblaze.com/stories/2014/08/16/friday-night-in-ferguson-loot...
"Looters in Ferguson, Mo., were met with little police resistance Friday night and store owners say they were forced to protect their businesses with their own guns, Fox2Now.com reported."
Guns And The Future In Ferguson
http://bearingarms.com/ferguson-failure-civility/
posted @ Saturday, August 16, 2014 - 13:57
[quote][b]theold33[/b] - I wonder how many of these protesters have EBT cards?
[/quote]
The Poor Man's James Bond Strikes Again!
https://www.youtube.com/watch?feature=player_detailpage&v=5cFD5hbQUGg
At the 1:46 mark, Kurt Saxon explains:
"In 1965, the Watts section of Los Angeles erupted in rioting. Courageous young black resistance defied the system and destroyed their own environment. The police and national guard cordoned off the area as store after store was torched. The chaos moved on for 4 days and nights. On day 5 it stopped. The mailmen had refused to cross the battle lines to deliver welfare checks. The rioters had burned the grocery stores and were hungry. And without money to go out of the area to buy food they had to stop. When it was over, the commercial area of Watts was a smoldering wasteland. All the young revolutionaries got for their trouble was about 6 tv sets apiece."
posted @ Saturday, August 16, 2014 - 13:43
HI franklingrady. I would say that the alleged robbery and include the issue of race as being red herrings.
The real issue is the police state of AmeriKa.
posted @ Friday, August 15, 2014 - 17:59
COPS GONE WILD -- Paul Craig Roberts
http://www.paulcraigroberts.org/2014/08/15/cops-gone-wild/
"It is not only in Ferguson that goon thug cops murder people and they don't murder only blacks. Whites get it also. In the meantime the sheeple will continue to pay the salaries of those who pose the greatest threat to them. "--Dr. Roberts
posted @ Friday, August 15, 2014 - 17:36
There's the trooper in charge, marching.
Missouri Highway Patrol seizes control of Ferguson; protest turns lighter, even festive
http://www.startribune.com/nation/271187501.html
I can't resist...Kurt Saxon is funny.
If you go to the 1:46 time mark, you can see for yourself!
https://www.youtube.com/watch?feature=player_detailpage&v=5cFD5hbQUGg#t=106
posted @ Friday, August 15, 2014 - 16:24
Williams told James Kaplan of US Weekly:
"Yeah! Literally, it's like possession ‑ all of a sudden you're in, and because it's in front of a live audience, you just get this energy that just starts going…But there's also that thing ‑ it is possession. In the old days you'd be burned for it…But there is something empowering about it. I mean, it is a place where you are totally ‑ it is Dr. Jekyll and Mr. Hyde, where you really can become this other force. Maybe that's why I don't need to play evil characters [in movies], 'cause sometimes onstage you can cross that line and come back. Clubs are a weird kind of petri dish environment. I mean, that's where people can get as dark as they can in comedy ‑ in the name of comedy, be talking about outrageous stuff and somehow come out the other side. I mean, that's one place where you really want to push it"-- (Robin Williams, "Robin Williams," by James Kaplan, US Weekly, January, 1999, p. 53).
posted @ Friday, August 15, 2014 - 10:25
Stirring The Pot: DOJ Sends 'Marshals' To 'Coach' The Protesters In Ferguson
http://endoftheamericandream.com/archives/stirring-the-pot-doj-sends-mar...
State Trooper Put in Charge of Ferguson Cops Joins Protest March
http://abcnews.go.com/US/state-troopers-taking-control-policing-ferguson...
Pentagon weaponry in St. Louis County: Updated Column
http://www.usatoday.com/story/opinion/2014/08/13/ferguson-police-michael...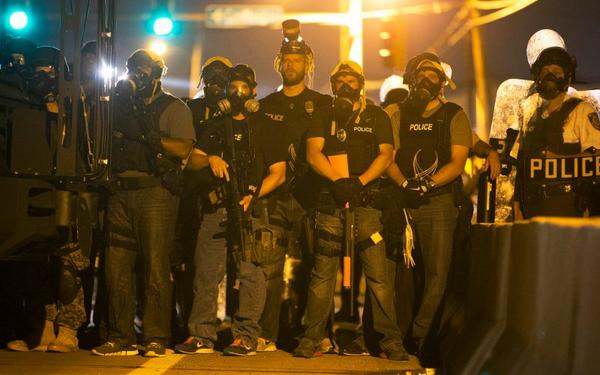 FBI warns of 'New Black Panther Party' leader inciting violence in Ferguson
http://wtvr.com/2014/08/13/fbi-warns-of-new-black-panther-party-leader-i...
Protests turn almost festive in Ferguson, Missouri
http://www.cbsnews.com/news/protests-turn-almost-festive-in-ferguson-mis...
Live Feed for riot and protest in Ferguson, MO. Scanner reports, news links
http://www.reddit.com/live/tdrph3y49ftn/
Highway patrol Capt. Ron Johnson is now in charge, at the request of Missouri Gov. Jay Nixon. "We have different approach that we're using this evening," he told CNN's Don Lemon. Smiling instead of scowling is key. "I've smiled more today than I have in the past few days."--CNN's Ben Brumfield reported and wrote from Atlanta, and Don Lemon and Ana Cabrera reported from Ferguson. CNN's Michael Pearson and Catherine E. Shoichet contributed to this report.
After Wednesday's Warzone, A Night of Relative Peace for Ferguson
http://beforeitsnews.com/protests-demonstrations/2014/08/after-wednesday...
posted @ Friday, August 15, 2014 - 10:18
[quote][b]nowheregirl[/b] - @CharlesB: Jerry Daniel and Edward Jerome Daniel are one in the same? An educated, UGA employee? Am I seeing things? (It's hard to see because "I've reached my limit on pages this month" per this Press+ ABH nonesense.) [/quote]
http://chronicles.franklin.uga.edu/posts/staff-profile-jerry-daniel
Staff profile: Jerry Daniel
Compare and contrast.
Howdy Miss Nowheregirl. Well, I had to post it since Jerry should have known about posting personal pictures on the Internet.
posted @ Wednesday, August 13, 2014 - 17:59
TeeWee, you are right about DUI enforcement being "a cash cow for all involved in the criminal justice system."
posted @ Wednesday, August 13, 2014 - 13:39
[quote][b]mike59[/b] - Edward Jerome Daniel[/quote]
http://www.math.uga.edu/~jerry/
http://www.linkedin.com/pub/jerry-daniel/4/678/355
"Put a face on UGA!"--said Jerry Daniel, vice president of the Staff Council and IT professional in the department of mathematics.
http://www.redandblack.com/news/staff-council-unites-to-fight-budget-cut...
http://www.zoominfo.com/p/Jerry-Daniel/1458172769
Boulevard Neighborhood Association
Vice Chair: Jerry Daniel
http://www.historicboulevard.org/
http://www.historicboulevard.org/officers.htm
"Dozens of Boulevard neighborhood residents met with representatives from the ACC Police, ACC Community Protection Division, and Commissioner David Lynn at the Chase street school cafeteria. Officers and officials talked about how law enforcement is carried out in the neighborhood and residents shared concerns about issues such as problems with reverse 911, ongoing problems with prostitutes, and a recent assault in the neighborhood."--from historicboulevard.org
http://www.open.ga.gov/sta/viewMain.aud;jsessionid=FBAA579C786FF520D2961...
Units of the University System and Georgia Military College
An Internet presence means the information and pictures put on the Internet are available...just sayin'.
posted @ Wednesday, August 13, 2014 - 13:15
[quote][b]Ballgame[/b] - You don't have to get one of those ear things do you?
[/quote]
Ear stretching: Why is lobe 'gauging' growing in popularity?
http://www.bbc.co.uk/news/magazine-15771237
posted @ Monday, August 11, 2014 - 10:12
All this reminds me of "3 days of the Condor".
Turner: Do we have plans to invade the Middle East?
Higgins: Are you crazy?
Turner: Am I?
Higgins: Look, Turner…
Turner: Do we have plans?
Higgins: No. Absolutely not. We have games. That's all. We play games. What if? How many men? What would it take? Is there a cheaper way to destabilize a regime? That's what we're paid to do.
. . .
Higgins: Fact is, there was nothing wrong with the plan. Oh, the plan was alright, the plan would've worked.
Turner: Boy, what is it with you people? You think not getting caught in a lie is the same thing as telling the truth?
Higgins: No. It's simple economics. Today it's oil, right? In ten or fifteen years, food. Plutonium. And maybe even sooner. Now, what do you think the people are gonna want us to do then?
Turner: Ask them.
Higgins: Not now — then! Ask 'em when they're running out. Ask 'em when there's no heat in their homes and they're cold. Ask 'em when their engines stop. Ask 'em when people who have never known hunger start going hungry. You wanna know something? They won't want us to ask 'em. They'll just want us to get it for 'em!
Turner: Boy, have you found a home.
posted @ Saturday, August 9, 2014 - 19:26
Okay, I tried to present some music.
"It's no good to write a deliberate anti-drug song and hope that it will catch. Because the general thing is that people will be upset by that. It would disturb them to have someone else shoving something down their throat. So the best thing to do is offer something that seems ambiguous—that on study or on reflection actually can be seen to be "anti"—which the song "Cocaine" is actually an anti-cocaine song. If you study it or look at it with a little bit of thought ... from a distance ... or as it goes by ... it just sounds like a song about cocaine. But actually, it is quite cleverly anti-cocaine."---Eric Clapton
posted @ Saturday, August 9, 2014 - 17:48
Keep Your Hands To Yourself
posted @ Saturday, August 9, 2014 - 17:40
[quote][b]theold33[/b] -
A lot of people are so broke they can't pay attention.
[/quote]
Et moi,et moi,et moi
posted @ Saturday, August 9, 2014 - 17:37