[quote][b]Tripollo[/b] -
"Team spokesman Denver Parler told the Sun he wasn't aware passengers were displaced. He said about 35 people affiliated with the team were on the 50-seat plane."
So Mr. Parler thought that Delta was flying just 15 passengers on a plane meant for 50? Sounds about right, all sport administrators think the world revolves around them and their needs.
[/quote]
Do you have any idea how many pairs of jean shorts 35 people affiliated with UF can wear!? That plane was so loaded down with denim, it was a miracle it took off. For this reason, airlines usually keep the limit of UF fans to 10 a flight.
posted @ Tuesday, December 3, 2013 - 16:07
Nothing against this guy, but did I miss something? Is there a reason we are getting minute by minute updates on this guy's death? Was he from Athens? Were his movies filmed in Athens? Thousands of caring and giving people die daily, and we never hear a word about them; however, an actor from a movie franchise dies and we get 24/7 news. The only real news is that he died from the very same activities his movies promoted; wreckless driving.
posted @ Tuesday, December 3, 2013 - 15:53
During spiritual quest, I once visited Peachtree Presbertarian Church with a friend. The sermon talked about the poor, and mentioned a rich man having less of a chance of getting into heaven than a camel walking through the eye of a needle. As we left the church, I was entertained by the people dressed in their nicest clothes (some of the woman looked like they were going on a hot date) getting into their expensive cars. Surely the sight would make Jesus nauseas. If some christians spent half the time worrying about the poor as they did about abortion, gays and stem cell research, the world would be a better place.
posted @ Tuesday, December 3, 2013 - 07:35
This is kind of a reverse version of the movie, "Fatal Attraction".
posted @ Tuesday, December 3, 2013 - 00:39
Will they be making any little Lego thugs for the train?
posted @ Sunday, December 1, 2013 - 07:50
I am pretty sure a study would find today's parent's are lazier than their parents were a couple decades ago. It is easier for parents to let their kids sit on the couch playing video games and stuffing their fat faces with Ding Dongs, than it is to encourage/motivate them to be involved in athletic endeavors. I hear parents making up all kinds of excuses why their kids are not involved in physical activities; but In reality, these parents are making excuses for their own laziness.
Parents are all to eager to give in to their kids whining. At the first sign of a child's resistance to an activity, parents let their children quit the sport. Kids are not pushed out of their comfort zone: and as a result, they are not prepared for later challenges in life.
posted @ Sunday, December 1, 2013 - 07:47
Seems to be a classy hat stealing epidemic. Someone snatched one of my best hats. So if you see someone wearing the below hat and they are not a "Playa", let me know.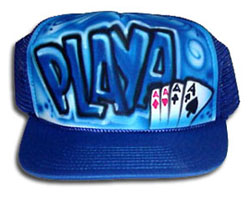 posted @ Friday, November 29, 2013 - 07:45
"Prayer for me is not reading a particular prayer. Communicating with God is communicating with myself and is designed to lead me to be a better person, a moral person, to take the upper road, to make the world a better place. I'm not just praying to an external force to take care of me or solve my problems. It's about being self-aware."...........
If everyone had this view on prayer and religion, the world would be a better place. Makes me second guess my decision to worship the "Golden Calf".
posted @ Friday, November 29, 2013 - 06:48
I love all of these "go outside and protect your property" comments.
Hmmm, I know the cops are coming; so what is the smart thing to do? With my weapon pulled, should I hunker down in my house. Probably in a room with one entrance where I could easily shoot someone coming into the room. This is an environment that I control.
Or
Should I wander outside to protect my woman.....If it is someone with a weapon, they have much better chance of ambushing me as I come out of the limited exits of my house. They have already knocked on my door, so there is a pretty good chance they are trying to get me to go outside. Maybe, I will luck out, and it will be some unarmed kid trying to "ring and run", or possibly an old man with Alzheimer's trying to find his way home. I'll teach them.
For thousands of years, there have been things called forts, castles, etc. The reason these things have been so popular? It is a hell of a lot easier to protect yourself from inside of a structure with limited entrance. This is especially true when you know reinforcements are on the way.
posted @ Friday, November 29, 2013 - 06:27
By far and away, the most frequent thing I preached about was "not living in fear".... What do you people do? You live in fear of everything.
Gators wear jean shorts...Go Dawgs
J. C. 0000
posted @ Friday, November 29, 2013 - 05:48
I am all for protecting ones property, and I own a handgun for that very reason. That being said, based purely on the information given, this sure seems to be an overly aggresive homeowner. This is the kind of reckless behavior that gets people killed. What is gained by going outside? Stay inside and let the cops do their job.
posted @ Thursday, November 28, 2013 - 22:13
@Thomas Jefferson Snodgrass: Numbers to prove it??? The numbers are in the story. Isn't the fact officers ticketed so many drivers in such a short time period proof of the numbers?
Here is a link to a story outlining the same problem some years ago. More numbers.
http://onlineathens.com/stories/031407/news_20070314059.shtml
posted @ Monday, November 25, 2013 - 16:11
[quote][b]Still A Bulldog[/b] -
Murray is certainly a DGD, and I surely hate to see his career end this way. Much love for #11. That being said, me and my group of Dawg watchers have been wanting to see Mason take snaps since our title hopes ended. Mason will be a star by the end of the Tech game.
[/quote]
I agree. I would have loved to seen Murray finish out his career without an injury, but Mason being able to play these last couple games should really springboard him into the offseason and next year. Looking through rose colored glasses! Mason starting these 2 games will be beneficial for UGA. I just wish it didn't happen at Murray's expense.
posted @ Monday, November 25, 2013 - 15:56
I can't believe stranglation is not a felony; however, the above Athenian with concerns makes a great point. How about the prosecutors going after the max sentence instead of handing out the probation Athens is so famous for.
posted @ Sunday, November 24, 2013 - 20:25
All Macon has is it's past.
posted @ Sunday, November 24, 2013 - 17:12
[quote][b]concerned citizen in athens[/b] -
It's a good day when there is one less lawyer.
[/quote]
This is especially true in Macon. Mercer pumps out lawyers; many of which decide to fester in Macon.
posted @ Sunday, November 24, 2013 - 08:54
@EmbracingWhatsRight: "could afford?" yea right. Good to see a school with it's priorities straight.
posted @ Saturday, November 23, 2013 - 22:07
[quote][b]Thomas Jefferson Snodgrass[/b] -
Yeah. Why put a crosswalk where all the pedestrian traffic is?
[/quote] Maybe put a crosswalk where there is a 4 way traffic light. Don't just stick a crosswalk in the middle of a road with heavy traffic. Most drivers pay no attention to the little light. I've seen enough people have to dodge cars at that crosswalk to know the crosswalk is dangerous.
There ia a lot of pedestrian traffic on Alps Road, using your logic, let's stick a little light in the middle of the road so pedestrians can cross there too.
posted @ Saturday, November 23, 2013 - 16:24
[quote][b]riff-raff[/b] -
If this is the one at the Grit this needs to be removed and let the health nuts walk to either red light to cross!!
[/quote]
While not in full agreement with your wording, I couldn't agree more about the sidewalk. That is an idiotic place to have a signaled sidewalk. Someone is going to get killed.
posted @ Saturday, November 23, 2013 - 08:52
Texas had to get this vote over with quickly, because tomorrow they need to vote on the abolishment of slavery. What century are we in?
I thought there is no state sponsered religion. Thomas Jefferson would vomit if he were live today.
posted @ Friday, November 22, 2013 - 12:28
Reason #631 not to go to Macon.
posted @ Friday, November 22, 2013 - 07:25
[quote][b]Athens Hi-Fi[/b] -
If it weren't for Kohls, Walmart, and Athens inhabitants, Oconee wouldn't have much blotter.
[/quote]
I would suggest moving the Oconee jail to the river bank of the Oconee river. Adjacent to Kohls. Build a nice pedestrian bridge over the river so Athens residents can walk over to claim their offenders. The bridge can be incorporated into a nice greenway trail along he river.
posted @ Thursday, November 21, 2013 - 23:41
It is important that couples have similar interests. I see good things ahead for these 2.
posted @ Thursday, November 21, 2013 - 23:20
This is getting regoddamdiculous. What is up with all the losers in Athens? One cannot get through the ABH without reading about these pathetic excuse for men who feel the need to abuse women. If you have ever abused a woman you are a coward. Plain and simple.
posted @ Thursday, November 21, 2013 - 23:15
I erroneously named Deshayne Major Pickens loser of he week. He is the wuss who is mentioned in today's blotter for the cowardly act of smashing a woman's head into a car. This was done prior to reading this article. For performing his cowardly act in front of a child, C.W. Hammond is now my loser of he week. Hopefully, something awful will happen to him during his prison stay.
posted @ Thursday, November 21, 2013 - 23:06