The sheriff's smart to re-assign him. The sheriff has long known that his jailers need regular practice deploying their tasers. Seems to me this clown's demonstrated an aptitude and ability for role playing that will make him an invaluable part of the taser training team--as a target!
posted @ Thursday, November 14, 2013 - 07:36
That's one ugly building.
posted @ Saturday, November 9, 2013 - 06:45
Nonsense. People are paid what they earn, less the government's cut. And those, "...monthly benefits cut by 5.5 percent, beginning this month. That's about $36 less..."?
If 5.5% equals $36, as the writer asserts, then her hypothetical family is still getting $619 a month for doing nothing. That's a ridiculously huge amount to spend just on food in a month.
Truth is, only invalids and morons can't find work in America. Don't believe it? Ask a Mexican. So, since food stamp eligibility defines recipients as being unfit, it's faulty reasoning on program administrator's part expect those receiving the hand-outs to shop for themselves. Better for recipients and for tax payers (and for the under-employed postal workers) would be to mail to America's invalids, physical and mental, pre-cooked and packaged rations.
Instead of giving our crippled and disabled credit cards that they can only use at huge, concrete-floored, warehouse-like grocery stores, deliver to the disabled cans of food pre-configured for nutritional value, like the military does.
posted @ Friday, November 8, 2013 - 08:12
[quote]"We'll save our Republican friends a recitation of all the damage they did to themselves during the recent battle over the government shutdown..."[/quote]
So you're telling us, "better put some ice on that..."
posted @ Friday, October 25, 2013 - 07:05
Arbitrary and artificially high Federal wage minimums effectively made entire industries illegal in America. The clean industries that anchored every Southern town--textile mills, sewing plants, electronics assembly, furniture manufacturing and domestic help, to name a few--were common a generation ago. Then Federal interventionism shuttered those careers.
Nationwide, millions of people who formerly earned responsibility, respect and recognition now only have waiting in lines for welfare handouts.
Give them their lives back--eliminate the Federal minimum wage!
posted @ Friday, October 25, 2013 - 06:54
Government, by its nature, is anti-business. The free market which built America has been throttled and bound by the organized sloth that our Federal government has become.
Government today is pretend jobs for pretend workers. Every election cycle those pretend workers vote for pretend representatives, themselves financed by the pretend industries built on selling government pretend goods and services. Every election cycle they increase their numbers.
The country was never supposed to be a democracy. Democracy is mob rule. Democracy is Greed, Inc. But it's happened. The union of government workers, families living entirely or partially on welfare, and corporations specializing in trading overpriced or worthless goods and services to government; in exchange for political contributions, stock tips, sweetheart property deals and old-fashioned bribes; is a leviathan moving the country in seismic bumps and lurches to the precipice of complete collapse.
posted @ Thursday, October 24, 2013 - 06:34
@Abc: Nonsense.
posted @ Sunday, October 20, 2013 - 08:50
You're a classy guy, Mr. Tant. Goofy politics, but a superb writer with a great heart.
posted @ Sunday, October 20, 2013 - 08:13
[quote][b]dzogchen[/b] - Please point out any factual errors you see.[/quote]
1) "...Obamacare, on March 23, 2010... became a law."
All bills must be passed by both halves of Congress before they are passed to the President for his signature. Neither the House's version nor the Senate's was passed by the other house.
2) "Texas Republican Sen. Ted Cruz raised $1.9 million in the third quarter..."
Ted Cruz reported $708,242 in contributions in the third quarter.
3) "Cruz and his ilk shut down the federal government."
The Federal government didn't shut down.
The Tea Party is not a political party nor is it aligned with one. It is a movement begun this time as the first time not by paid-off politicians but by citizens. Literate, working, family-aware, real Americans have been stirred to restore the Constitution to its rightful place at the foundation of all law in the United States. Not by bloodshed nor even by political trickery do we propose to cause change but simply by educationally forced osmosis. In support of that we proselytize each other about the meaning and value and righteousness of that divinely inspired document, the US Constitution. And we organize at the grass roots level to support those who support the restoration of America not so much for our own lives but for those of our children and of our children's children.
Some politicians of standing in both major, professional political parties recognize and support our mission. Most, recognizing that our success would limit their own influence, desperately oppose us.
Because Federal spending is huge and the vast majority of it is done in spite of Constitutional restrictions, there are millions of bought-off, non-politicians who have come to depend on the free milk of the Federal cash cow. We know and expect that they oppose restoring the limits and responsibility that Constitutionality imposes. May I presume that last group describes you?
posted @ Sunday, October 20, 2013 - 07:39
I bought a co-ed a couple of shots last night at the Globe. Where's my ten grand?
posted @ Sunday, October 20, 2013 - 06:35
Sad, sad news.
posted @ Saturday, October 19, 2013 - 08:03
[quote][b]Standard & Poors says the shutdown cost the US economy $24 Billion[/b][/quote]
CBS says the presidency of Barack Obama costs the U.S. economy $1000 billion every eight months.
Read more:
http://www.cbsnews.com/8301-503544_162-57400369-503544/national-debt-has...
posted @ Friday, October 18, 2013 - 18:37
[quote][b]As I See It[/b] - @Eastville: Who are the "non-essential Federal employees"? [/quote]
Michele Obama's personal staff: 
1.   $172,200 - Sher, Susan (Chief Of Staff) 
2.   $140,000 - Frye, Jocelyn C. (Deputy Assistant to the President and Director of Policy and Projects For The First Lady) 
3.   $113,000 - Rogers, Desiree G. (Special Assistant to the President and White House Social Secretary for Mrs. Obama) 
4.   $102,000 - Johnston, Camille Y. (Special Assistant to the President and Director of Communications for the First Lady) 
5.   $100,000 - Winter, Melissa (Special Assistant to the President and Deputy Chief Of Staff to the First Lady) 
6.   $90,000 - Medina, David S. (Deputy Chief Of Staff to the First Lady) 
7.   $84,000 - Lilyveld, Catherine M. (Director and Press Secretary to the First Lady) 
8.   $75,000 - Starkey, Frances M. (Director of Scheduling and Advance for the First Lady) 
9.   $70,000 - Sanders, Trooper (Deputy Director of Policy and Project for the First Lady) 
10. $65,000 - Burnough, Erinn (Deputy Director and Deputy Social Secretary) 
11. $64,000 - Reinstein, Joseph B.(Deputy Director and Deputy Social Secretary) 
12. $62,000 - Goodman,  Jennifer R. (Deputy Director of Scheduling and Events Coordinator For The First Lady) 
13. $60,000  Fitz, Alan O.(Deputy Director of Advance and Trip Director for the First Lady) 
14. $57,500 - Lewis, Dana M. (Special Assistant and Personal Aide to the First Lady) 
15. $52,500 - Mustaphi, Semonti M. (Associate Director and Deputy Press Secretary To The First Lady) 
16. $50,000 - Jarvis, Kristen E. (Special Assistant for Scheduling and Traveling Aide To The First Lady) 
17. $45,000 - Lechtenberg, Tyler A. (Associate Director of Correspondence For The First Lady) 
18. $43,000 - Tubman, Samantha a (Deputy Associate Director, Social Office) 
19. $40,000 - Boswell, Joseph J. (Executive Assistant to the Chief Of Staff to the First Lady) 
20. $36,000 - Armbruster, Sally M. (Staff Assistant to the Social Secretary)
21. $35,000 - Bookey, Natalie (Staff Assistant) 
22. $35,000 - Jackson, Deilia A. (Deputy Associate Director of Correspondence for the First Lady) 
And the make-up artist. And the hairdresser.
posted @ Wednesday, September 18, 2013 - 16:46
Cut the work week (and pay) of non-essential Federal employees down to three days a week--Tuesdays, Wednesdays and Thursdays. That will balance the budget, bring Federal pay down to the level of private pay, and, since they lay-out most Fridays and Mondays, their "work" output will be unchanged. Problem solved.
posted @ Wednesday, September 18, 2013 - 07:14
Charity is done by the charitable, with their own money. Welfare's a corruption of that. It creates a permanent underclass, entitled and resentful. Enslaved not by whips and chains but by lies and misunderstanding. Ideological whores, turning liberal tricks for poverty pimps, they're naked of real, timeless & true values. Welfare administrators and the recipients of their purloined largess leave home everyday tarted-out in liberal lies, walking the streets, playing their parts.
posted @ Wednesday, September 18, 2013 - 06:33
[quote]"There are no 'pro-abortion' organizations." [/quote]
Wrong, there are several. Democrats are one. Planned Parenthood's another. NOW's a third. Socialist and Communist parties. Abortionist industry trade groups, presumably.
[quote]"People who are pro-choice are concerned with the health and well-being of the mother..."[/quote]
Is murdering your children healthy? Does killing nurture "well-being"?
[quote]"People who are pro-choice are concerned with the health and well-being of the... child."[/quote]
Who believes killing babies promotes their "health and well-being"?
posted @ Wednesday, September 18, 2013 - 06:20
Screw twitter/MySpace/Facebook. That's Californication media, we're Athens, the greatest place to live on Earth (and beyond!) We're united by the OnlineAthens experience, build on that, don't direct traffic away in random directions.
Build OnlineAthens, make it the hub for Athens news junkies and for Athens expats by adding more intrinsic, intuitive functionality.
I.e., with a story about a movie, a concert, a 5k, a chili cook-off or almost anything, include links to buy tickets or mp3s or video rentals or sneakers (or Pepto-Bismal.) Learn from Amazon.
Bring back the free email service and use it to promote news stories, columnists, Athens venues and local stores. Learn from Gmail.
Make the weather bug (upper right corner of OnlineAthens header) a link to an expanded weather page. Then link that to archived Athens weather stories, Global Warming/Climate change alarmist columns and letters, appropriate clothing sales, roof repair companies, air conditioner repair, a related classified ad.
Model the architecture of the web site on a spider web--send a thread out, pull it back in--everything connected, expanding and re-centered.
posted @ Thursday, September 12, 2013 - 12:40
Great idea, poor implementation. The mileage numbers promoted on the new web site are not the ones that were posted on the window when you bought the car but instead are new numbers, calculated using the current administration's methodology.
Formerly the EPA derived the mileage numbers of each car model from testing on vehicle-sized treadmills called dynamometers. Now they are "calculated" by a political formula.
Dynamometer testing was good because it was repeatable. The same road course could be simulated for all vehicle models and for all fuel types. The downside was that EPA mileage was always higher than real-world mileage, presumably because first-generation dynamometers in garages did not replicate real-world wind resistance. In response to complaints, instead of adding real wind to dyno testing, political "science" has replaced real science. Today's mileage stickers promise impossibly high miles per gallon for politically favored gasohol-powered vehicles, electric vehicles and hybrid gas/electric vehicles. And the mileage labels for unfavored conventional vehicles today threatens potential buyers with unrealistically low mileage estimates.
Got a little '80s or '90 model import? One of those old-school fuel misers, underpowered, slow, hard to start? The EPA mileage sticker when you bought it promised what-- thirty to forty mpg? You only get 35 or so, real-world, right? Well, hope you saved the original EPA sticker because the new, downloadable, Obama-fied mileage sticker for your car will be only 25 mpg or so, 10 less than the original sticker and 5 or 8 less than you get in real-world driving!
posted @ Thursday, September 12, 2013 - 08:32
Hmmm. Video didn't post. Try it again...
Sys admins note: The problem seems to have been that Google/YouTube has gotten cute with address shortening & AthensTalks' 'bots don't like it. The original link I tried to post, the one that was disallowed, was "http://youtu.be/2Yz8cizr6sI". To get by your 'bots I changed it to, "https://www.youtube.com/watch?v=2Yz8cizr6sI". Note the hash id is the same but I changed the shortened part, "http://youtu.be/" to the longer, more conventional, "https://www.youtube.com/watch?v=". Any chance the script could be modified to allow the shortened, "http://youtu.be/" prefix?
posted @ Wednesday, September 11, 2013 - 15:33
Retirement plans must be funded before retirement. It's fiscally irresponsible to promise workers future benefits that are to be paid for by people who never traded for the worker's service and who never received the benefit of that service.
posted @ Wednesday, September 11, 2013 - 01:13
Today's the one-year anniversary. The one-year anniversary of the massacre of the American diplomatic mission in Benghazi Libya.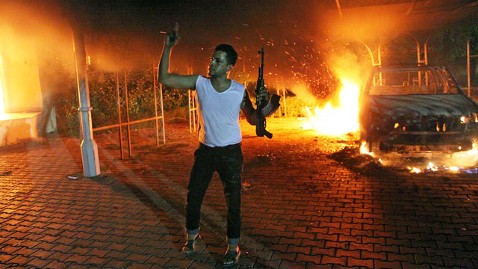 posted @ Wednesday, September 11, 2013 - 01:07
[quote][b]dzogchen[/b] - Thanks for the weather report, sport. I see you're another uninformed denier conflating weather with climate.
Meanwhile, the climate as a whole is continuing to warm. China experienced the highest temperatures ever recorded in some areas last month and the oceans continue to store the excess heat ensuring more ice melt, more disruption of ecological habitats, more acidification of the oceans, more disruption of normal weather patterns, and on and on and on....[/quote]
Wrong, @dzogbreath. Antarctic ice has grown steadily every year of the last twenty. And in the Arctic? The Arctic ice cap grew 60%, almost a million square miles, last year.
Read more here (or, if you're a Democrat, ask someone who isn't a moron to read it to you):
http://www.dailymail.co.uk/news/article-2415191/Global-cooling-Arctic-ic...
posted @ Tuesday, September 10, 2013 - 16:19
I'm glad to see some fiery local editorial content again. There's been too little of this sort of thing lately. I don't agree with the editorial writer, but I appreciate a taste of controversy with my morning coffee. The two go well together, even when the point the editorial writer is making is completely wrong, as it is this morning.
To the writer's credit, after describing each incident wherein Commissioner Echols piqued the author's journalistic curiosity, he dutifully noted the exculpatory facts. But the paradigm the article suggests by invoking baseball's three strikes and you're out rule--that a person, however innocent, may only pique a reporter's interest three times--is hurtful to all public officials. Worse, because its application will further discourage good men and women from running for public office, such twisted reasoning will hurt us all.
posted @ Friday, September 6, 2013 - 06:46