Here's a picture of the box: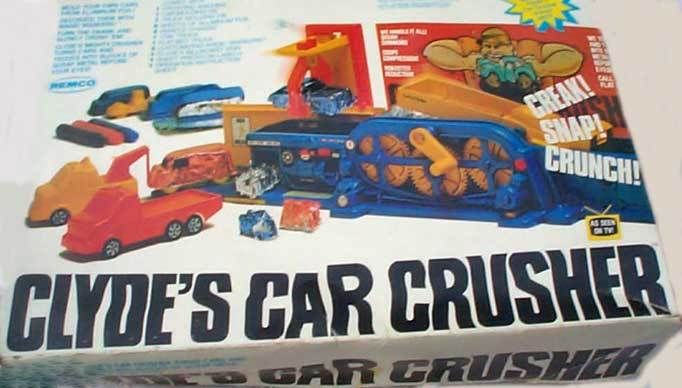 posted @ Monday, November 26, 2012 - 15:49
[quote][b]Long Sufferer[/b] -
And who exactly determines which ones are valuable?
[/quote]
Warner Bros. offers made-to-order copies of archived films via their web store. I searched for 1977's "Rolling Thunder", which has never been available on DVD, and I can get it for under $20.
It's a pretty obscure movie, so I was impressed that they archived it.
posted @ Friday, November 16, 2012 - 17:03
Voodoo zombies are the best zombies!
posted @ Wednesday, October 10, 2012 - 14:44
1993 was one of the weakest years I can remember in terms of Hollywood releases. Jurassic Park broke box office records mostly because there was nothing else to see (its only competition was "Last Action Hero", which was hyped as a bomb).
posted @ Thursday, September 6, 2012 - 16:47
I'm in the process of remaking my original Athens Talks post so it will appeal to a wider audience!
posted @ Monday, April 30, 2012 - 16:54
"Twilight" is what passes as a teenage monster movie these days, and "Transformers" is what we call sci-fi spectacle.
I could go for some old school scares. Maybe a new version of "The Tingler" that causes cell phones to stop working during the film
posted @ Monday, April 30, 2012 - 16:30
This song has been in my head since the day we filmed the video. Those Campbell kids, man.
posted @ Monday, April 23, 2012 - 16:46
[quote][b]ponsoldt[/b] -
amen. and you didn't mention that you can drink many kinds of beer or wine, or even green tea or expresso, while you watch.
[/quote]
YES! Yes they do.
I'm more of a Cheerwine guy, though. My addiction has become so severe that the Ciné staff no longer has to ask me what I want to drink.
posted @ Thursday, April 12, 2012 - 14:40
I'd like to see adaptations of the "Choose Your Own Adventure" books I loved when I was a kid. All possible story outcomes could be filmed, and the audience votes on what will happen next. No skipping ahead to see if you die, though.
posted @ Monday, January 23, 2012 - 18:16
Note: The Plaza has added a 2:30pm screening for Saturday!
posted @ Thursday, December 15, 2011 - 18:42
[quote][b]jrgarland[/b] - Here is some trivia for you: the movie was produced by Johnny Depp and the small role of the book shop owner was played by Christopher Lee. [/quote]
I did notice Depp's name in the credits, and seeing Christoper Lee pop up in the train station was a treat for a this movie nerd. I watched the trailer for "The Wicker Tree" last night, a new sequel to the original "Wicker Man". Not only has the director returned, but Lee makes an appearance as well!
And thank you for setting me straight on the details I got wrong! It makes me happy to know someone's reading these things.
posted @ Thursday, December 8, 2011 - 10:22
@Digdug: That's what I get for whizzing on the electric fence.
posted @ Wednesday, November 16, 2011 - 16:29
"Vodka Tampons" is a great band name. Just saying.
posted @ Tuesday, November 15, 2011 - 16:44
THE MUPPETS.
The Muppets, the Muppets, the Muppets.
posted @ Thursday, November 10, 2011 - 13:33
I was actually looking forward to Eddie hosting the show. His role in "Tower Heist" was a step towards the return to form fans who grew up laughing at him have been waiting for (the film is hit or miss and Eddie is capable of better, but it was nice to see him finally get away from the dumb family comedies).
posted @ Wednesday, November 9, 2011 - 17:32
[quote][b]Laura[/b] - @Andrew Shearer: Thanks for taking care of us OCD-type people!
Have a great day! [/quote]
Very welcome (I'm one of you!)
posted @ Tuesday, November 8, 2011 - 10:58
[quote][b]Laura[/b] - "Breath" (the noun) has no "e".
"Breathe" (the verb) has an "e".
Sorry. That was driving me nuts. (At least they got it right in the article.) [/quote]
Saw the headline and fixed it ASAP...
posted @ Tuesday, November 8, 2011 - 10:25
@Joel Kight: It was the first thing I read when I got in this morning! I'm a Canon user, so of course I thought it was cool. Can't wait to see the response from all my Nikon friends...
posted @ Friday, November 4, 2011 - 11:20
I went to this last night. It was really cool seeing all those festival representatives sitting right next to one another! It was an incredible opportunity to be able to listen to them speak and be able to interact with them.
More than one of them agreed that Athens is a difficult place to put on a film fest since we have such a huge music scene here, but the Musselwhite pointed out that Austin TX has successfully become known as a film town AND a music town. I would love to see that happen here.
But what would it take? Austin has the Alamo Drafthouse and Robert Rodriguez. We've got Cine...and me.
posted @ Wednesday, November 2, 2011 - 12:50
The list I started out with was much longer. It included The Beyond (aka The Gates of Hell), Blacula, Cabin fever, Event Horizon, From Beyond, The Frighteners, High Tension, Inside, Martyrs, Monster Man, The Ruins, Spider Baby, and Sick Nurses.
posted @ Thursday, October 27, 2011 - 14:58
The film from Denmark I spoke about on the podcast actually ended up winning best short film prize at Spooky Empire! To find out more about it, go to http://bookofhorror.com/
posted @ Thursday, October 13, 2011 - 14:19